The Presence In Absence

Poetry is not made of words.
I can say it's January when
it's August. I can say, "The scent
of wisteria on the second floor
of my grandmother's house
with the door open onto the porch
in Petaluma," while I'm living
an hour's drive from the Mexican
border town of Ojinaga.
It is possible to be with someone
who is gone. Like the silence which
continues here in the desert while
the night train passes through Marfa
louder and louder, like the dogs whining
and barking after the train is gone.

Linda Gregg
As Taylor Swift says, "august slipped away like a moment in time." It's a particularly relatable lyric these days, as most of my conversations with people involve one of us remarking, "what is time" or simply "time" with a sigh, often the easiest thing to say about the most challenging of circumstances.
August was our first full month in Berkeley. Kevin started work, our Shipment of Stuff from Chicago finally arrived, our home is now more of a home. I cook a nice homemade dinner almost every day (unless we are finishing leftovers), not only because we've gotta eat but also because it feels like a reliable form of therapy.
I think that my tendency to let my stubborn obsessions consume me has become more pronounced over quarantine, either because I'm more impressionable and vulnerable (?) or because "exciting" events are scarce these days. August has been a month for obsessions indeed; I was obsessed with folklore (as evidenced by my 2000 word review), obsessed with cleaning/organizing our home, obsessed (still) with the picture-perfect world of Pinterest (and succulents), obsessed with Crash Landing on You, a K-drama that Kevin and I started watching this month (more on #CLOY later). In my translation work, my obsessiveness often leads me down helpful rabbit holes as I try to get to the bottom of a text (for example: I spent a while Googling the use of limestone powder on graves for a poem I am translating). When I'm making crosswords, obsession motivates me to construct better grids and search onelook.com until I've found the right words to fit the puzzle. I guess two contradicting synonyms for "obsession" in my mind are "focus" and "distraction"—I'm just really focused on stuff right now while being continuously distracted, I guess.
🎬 Two of Kevin's friends suggested that we watch CLOY, a K-drama about a South Korean heiress, Yoon Se-Ri (Son Ye-jin) who is transported into North Korea by the winds of fate in a paragliding accident. In the forest where she crash-lands, she meets the Captain of the Special Forces, Ri Jeong-hyeok (Hyun Bin), who ends up hiding her and does his best to send her home discreetly. Predictable spoiler: they fall in love.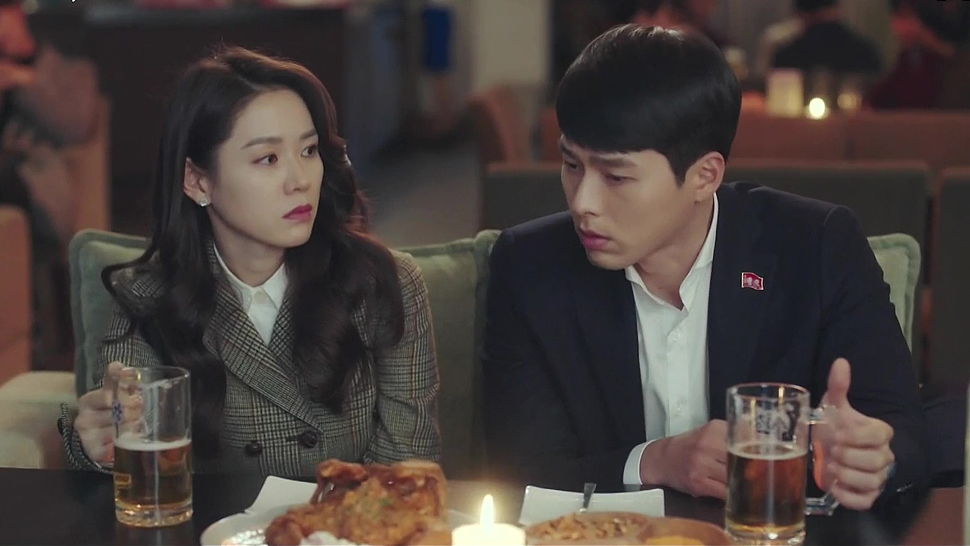 But seriously—the show is somehow full of unexpected twists and turns despite delivering many of the tropes that you would expect of K-dramas. The script is hilarious, the performances are gold, and on top of it all the whole thing is very romantic. I don't remember the last time I was so genuinely touched and moved by a show. Cynthia and I stayed up until 5 AM binge-watching the final 5 episodes one night (this is very out of character for me, so you can understand the extent to which I was possessed). Another ingenious aspect of the show is its spot-on product placement. I knew that product placements are common in K-dramas (huge source of revenue), but I didn't fully realize until a few episodes into the show that the tasty fried chicken and conspicuously shiny jewelry that kept reappearing were, in fact, the result of brand partnerships and sponsors. In truth, one can feel slightly duped when realizing that their favorite scene largely revolves around a commercial product that was strategically placed there to satisfy a corporate brand. But ultimately, any TV show is trying to sell you something, be it a Range Rover or a love story. You're going to be sucked in no matter what—it's just that a particular brand might happen to profit off of your emotional investment (South Korea's Gold Olive Chicken, which featured prominently in the show, apparently experienced a 100% sales boost after the K-drama aired).
Son Ye-jin will always have a special place in my heart because she starred in The Classic (2003), one of my dad's favorite movies that we watched many times when I was young. Watching her bring Yoon Se-ri to life (and she did suuuuch a brilliant job) felt like such a gift, and actually helped me remember the joy (and emotional turbulence, lol) of watching The Classic.
📚 Last month, I made a promise to myself that I would read more this month, and while I didn't exactly deliver, I am off to a good-ish start. I read James Baldwin's The Fire Next Time, which remains a timely text in our current climate. I plan to go to Moe's Books this weekend (my former colleagues got me a gift card!) to pick up some September reads. I'm still translating Chung Kwok-keung's poems and preparing for two panels at the virtual ALTA conference next month, so I've been reading and translating his work. I've been invited to contribute a chapter on Hong Kong poetry for a book that is being published by Routledge, so I re-downloaded Zotero and put my academia hat back on. The working title for my essay is: "Writers in Residence: Housing and Property in Hong Kong Poetry." Not bad, eh? I'll be writing about Chung Kwok-keung's "The Growing House," Lok Fung's "Days When I Hide My Corpse in a Cardboard Box," and P.K. Leung's "A Poetry of Moving Signs." In preparation for writing the paper, I also read Martin Heidegger's essay on poetry and dwelling (like I said, putting my academia hat back on for a bit). Finally, I'm copyediting a full-length book on marketing (also for Routledge), so I've been reading and learning a lot about the future of branding.
🎶 This month, I have been listening almost exclusively to folklore and the CLOY soundtrack. Songs that Kevin is sick of hearing on repeat include: Flower by Yoon Mirae, Here I am Again by Yerin Baek, and The Song for My Brother, a lovely piano track composed by Nam Hye Seung and Park Sang Hee that plays an important role in CLOY. In typical obsessive fashion, I have also learned to play the song on the guitar!
💬 My word of the month is "marketing." It's just something I've been thinking about as I edit this book on branding and ponder the product placements in CLOY. Of course, marketing is always in every aspect of our lives. But it feels like a fitting word for August, a month that went by so quickly, yet was packed with so many obsessions. I want to end with a quote that I saw on Twitter the other day:
She remembered it was August and they say August brings bad luck.

But September would arrive one day like an exit. And September was for some reason a lighter and more transparent month.

—Clarice Lispector, In Search for a Dignity (t. Katrina Dodson)